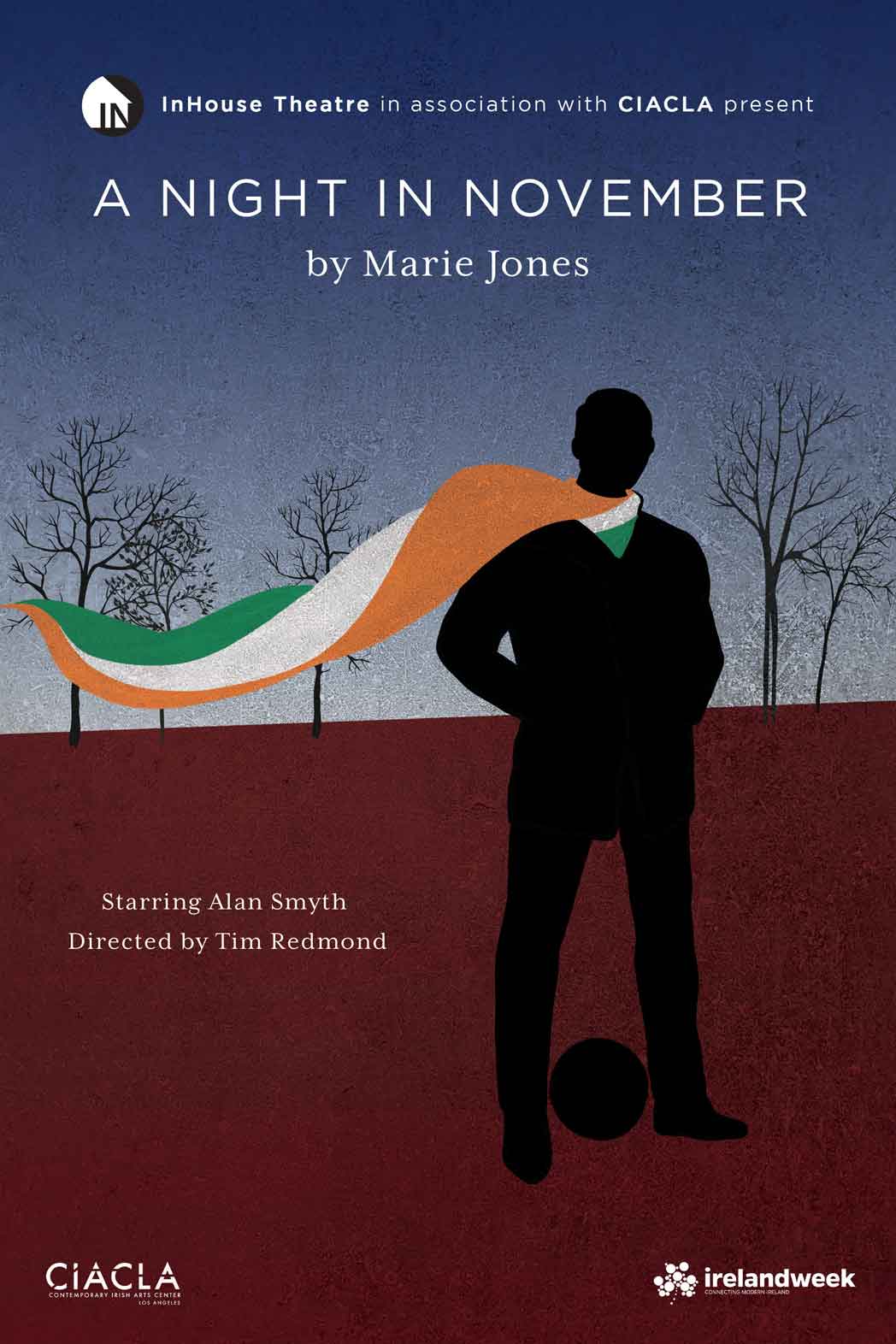 MULTIPLE DATES, SEE BELOW
CIACLA and InHouse Productions presents:
A night in November,
In association with IrelandWeek.
.Produced by InHouse Theatre
Featuring Alan Smyth. Directed by Tim Redmond.
"The sectarian prejudices of 1994 Northern Ireland are challenged in an arena even more impassioned than politics: football. This brilliant and piercingly funny one-man play demonstrates how tolerance is possible even in the face of our most entrenched rivalries."
InHouse Theatre proudly presents A Night In November as a live, immersive storytelling experience, staged in various Irish pubs throughout Los Angeles. InHouse company member Alan Smyth gives an electrifying performance of this compelling, comic, and profoundly hopeful story from Irish playwright Marie Jones.
Please make note of our different performance locations when purchasing your ticket:"
May 8th & 9th – Tom Bergin's,840 S Fairfax Ave., LA, CA 90036
May 15th & 16th – Irelands 32, 13721 Burbank Blvd., Van Nuys, CA 91401
May 20th, 21st & 22nd – Liberate Yourself, 13323 Ventura Blvd., Sherman Oaks, CA 91423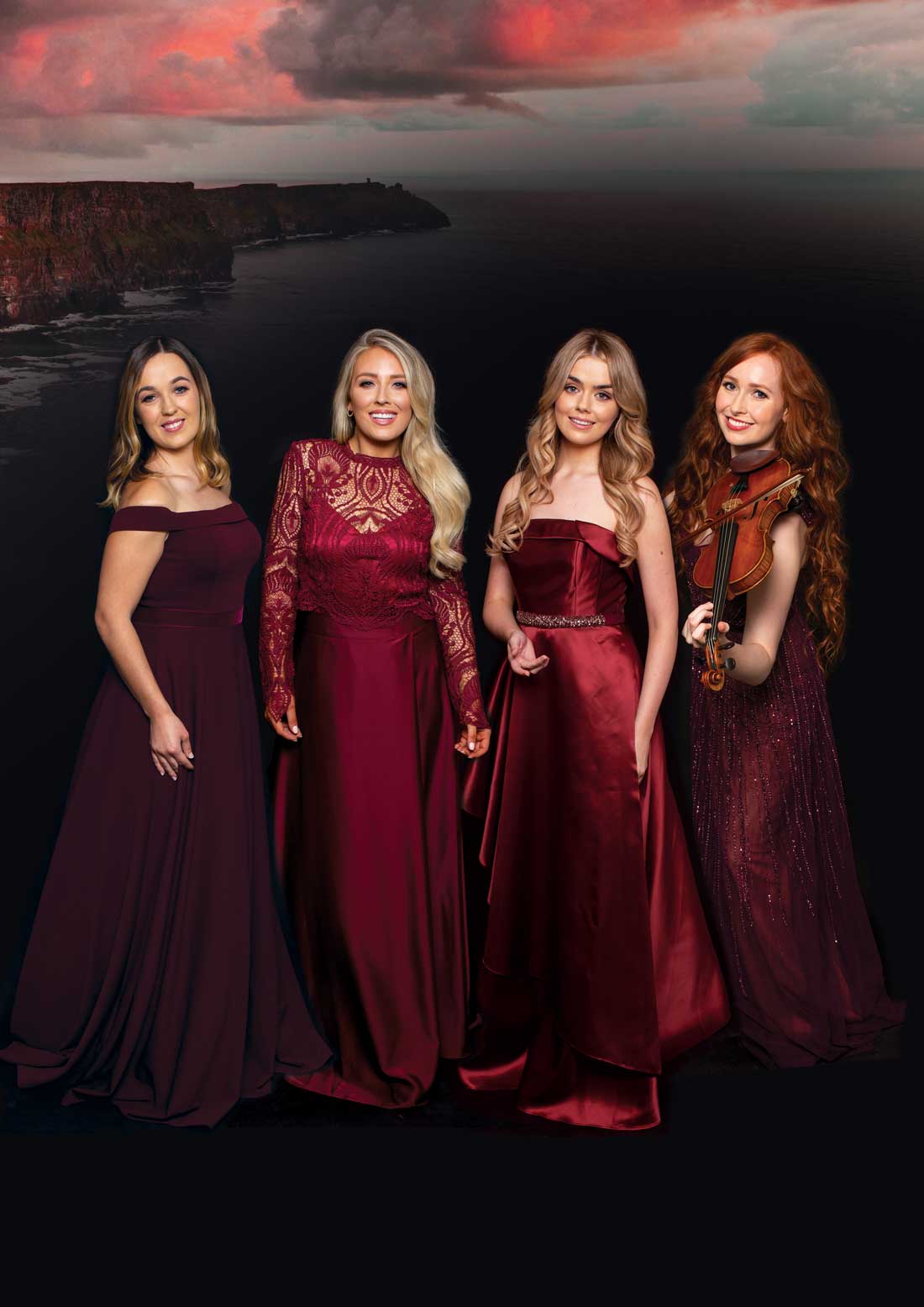 MULTIPLE DATES, SEE BELOW
Celtic Woman
"Postcards From Ireland"
The Civic Auditorium in Pasadena on May 6th
The Fox Performing Arts Center in Riverside on May 7th
Mechanics Bank Theater in Bakersfield on May 8th
Grammy nominated Celtic Woman, the most successful all-female Irish group in history returns to the LA area for 3 dates. 'POSTCARDS FROM IRELAND' showcases the accomplished recording ensemble and world-class performing collective, celebrates Ireland's rich musical and cultural heritage, and builds on the group's 16-year legacy of introducing some of Ireland's most talented singers and musicians to the world stage.
Celtic Woman's fresh fusion of traditional Irish music and contemporary songcraft celebrates Ireland's history while reflecting the vibrant spirit of modern Ireland. The group's repertoire is presented by four young Irish women whose performing skills bring centuries of musical and cultural tradition to life through Irish classics, contemporary songs, classical favorites and stirring original compositions. Their angelic voices and instrumental virtuosity are accompanied by a robust ensemble that includes Irish dancers, bagpipers and a full band playing an array of traditional Celtic instruments, including the bodhran, tin whistle, bouzouki and Uilleann pipes.
The "POSTCARDS FROM IRELAND" tour and album convey a true message of love, hope and expectation as the world looks toward getting back together again. Celtic Woman feels there is no better way to express these wishes than to write and send a postcard, but this postcard is written with the music and songs from their latest album. The 13 brand new songs on "POSTCARDS FROM IRELAND", released October 29, feature new arrangements of beautiful and iconic songs including "The Dawning of the Day", "Wild Mountain Thyme", "The Galway Shawl" and "Black is the Color", among others.
Since 2005, Celtic Woman has sold over ten million CDs and DVDs, making it the only all-female act to achieve multi-platinum success in the classical crossover and world music genres during the past decade. Named Billboard's #1 World Music Artist of the Year six times, 12 of the studio CDs have debuted at #1 on Billboard's World Album chart. Celtic Woman has also scored two Top 10 debuts on Billboard's influential album chart and five Top Five DVDs on Billboard's Top Video chart, as well as achieving platinum-level sales in nine countries. Their 2016 album release, "Destiny", was nominated for a Grammy award in the category of Best World Music Album, marking the group's first-ever Grammy nomination.
Celtic Woman will be performing at The Civic Auditorium in Pasadena on May 6, at The Fox Performing Arts Center in Riverside on May 7 and at Mechanics Bank Theater in Bakersfield on May 8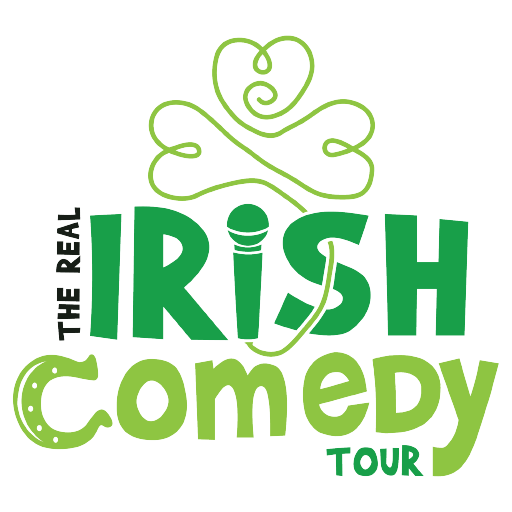 Real Irish Comedy Tour
with David Nihill, and Guests : Sean Finnerty, Katie Boyle, and Mick Thomas!
Hollywood Improv
8162 Melrose Ave, Los Angeles, CA 90046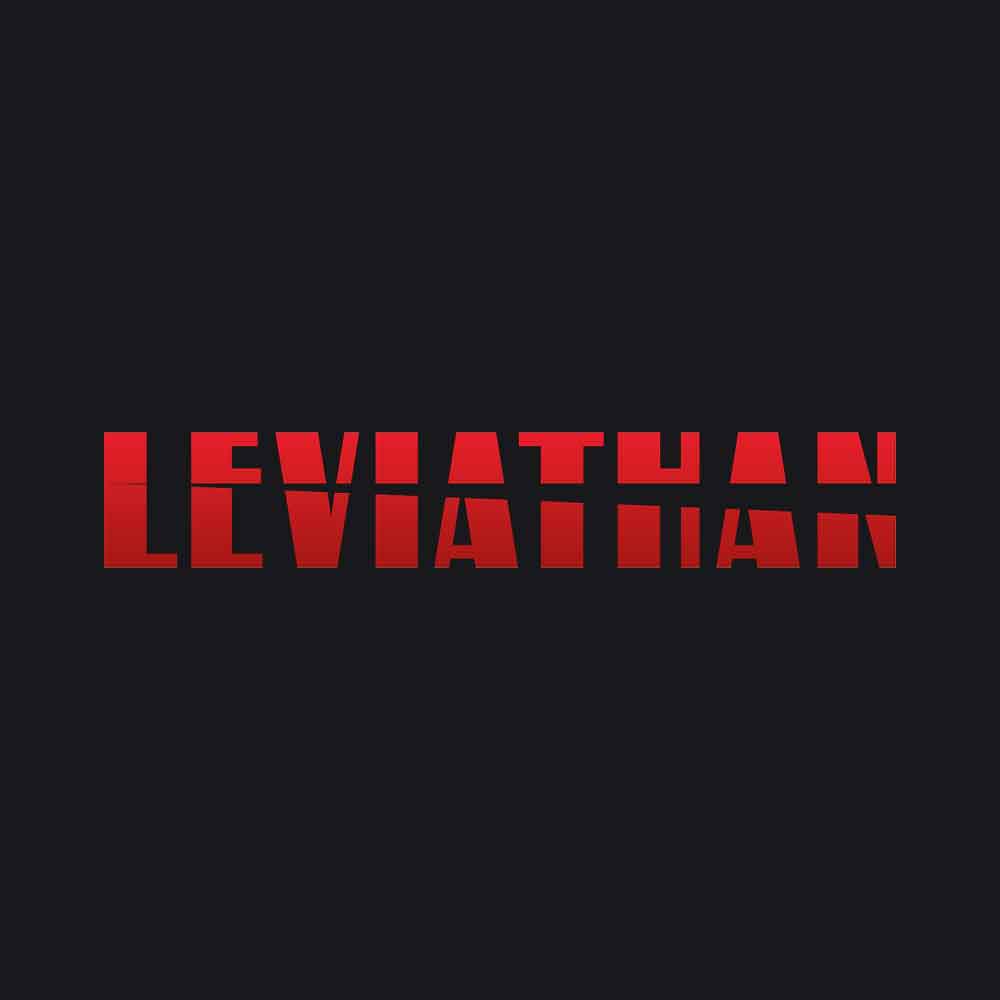 Leviathan – A Cultural & Political Cabaret Ft Waterford Whispers News Live, Donie O'Sullivan & Guests
Guests include CNN reporter, Donie O'Sullivan, Caroline Morahan, Actor, Sarah Murphy, VP of Curation & Marketing Technologies at MGM Resorts International; Jacinta Tobin, VP Global Sales and Operations, Proofpoint; and Mark Little, CEO and co-founder of Kinzen.
TownHouse Venice
52 Windward Ave, Venice CA 90291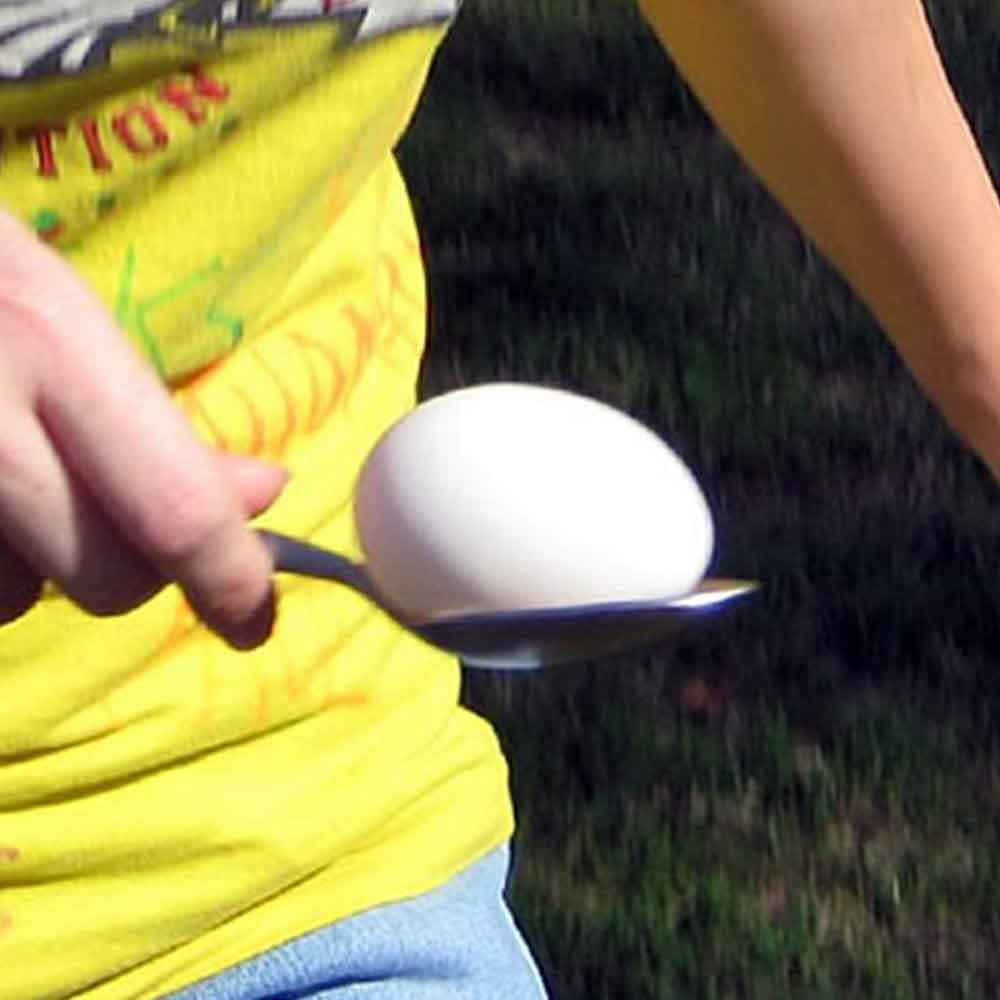 IrelandWeek Family Sports Day Event
An Irish Classic Sports Day for all the family with all your favourites such as the Egg&Spoon, the 3 legged race and potato sack race!! Face painting for the kids, followed by refreshments at The CloverField.
City Of Santa Monica Airport Park
3201 Airport Avenue Santa monica 90405 https://goo.gl/maps/PBCvvPiXJDukuuDi7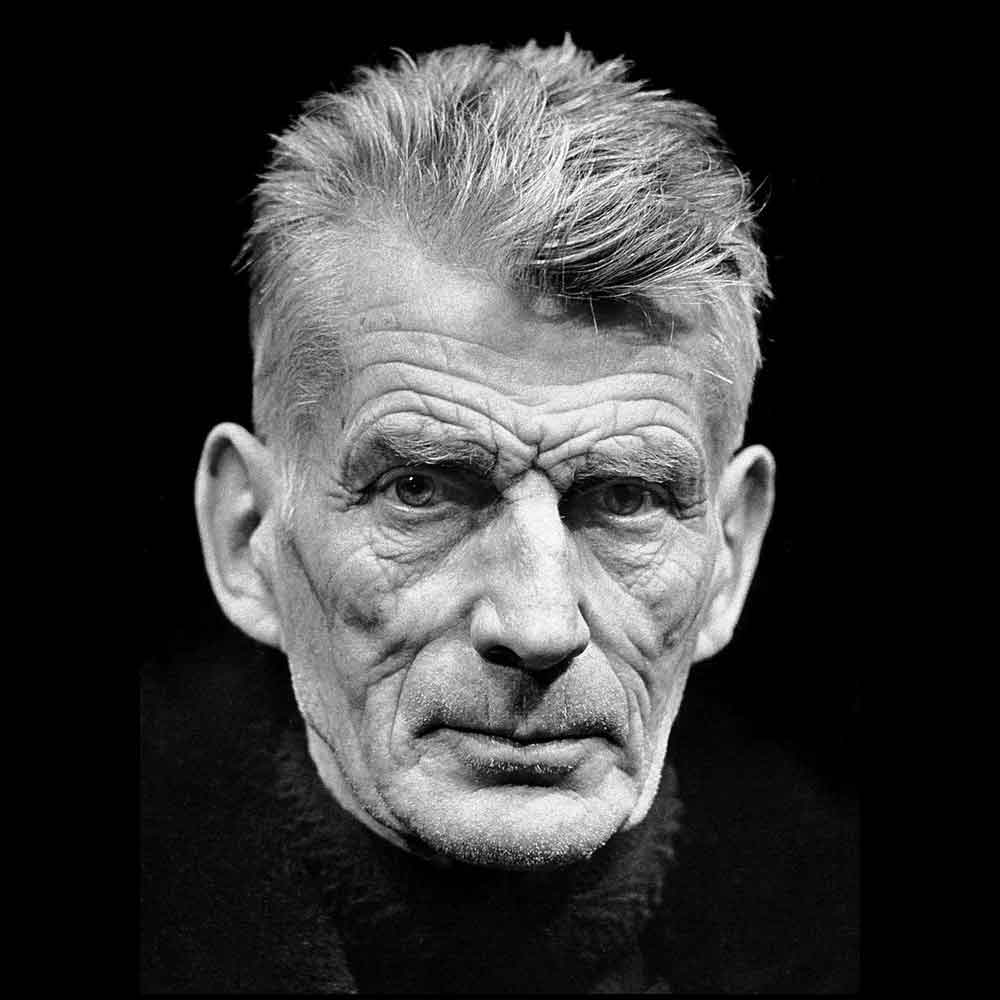 Samuel Beckett Symposium
Join us for a wonderful evening celebrating one of Ireland's best loved and most enigmatic figures, Samuel Beckett. A novelist, playwright, short story writer, theatre director, poet, and literary translator.
We are honoured to be joined by Dr Feargal Whelan from Trinity College dublin and Dean Katherine Weiss, Associate Dean, College of Arts & Letters, CalState university.
Using the much lauded recent BBC documentary " Searching For Sam" as a springboard for the evenings events, we will feature music and readings from very special guests ( To Be announced) Musical direction is by Eimear Noone, Award winning Irish conductor and composer, who was the first woman to conduct at the Oscars and Craig Stuart Garfinkle, composer.
Programme begins 5.30pm sharp.
Shatto Chapel First Congregational Church LA
540 S Commonwealth Ave. Los Angeles, CA 90020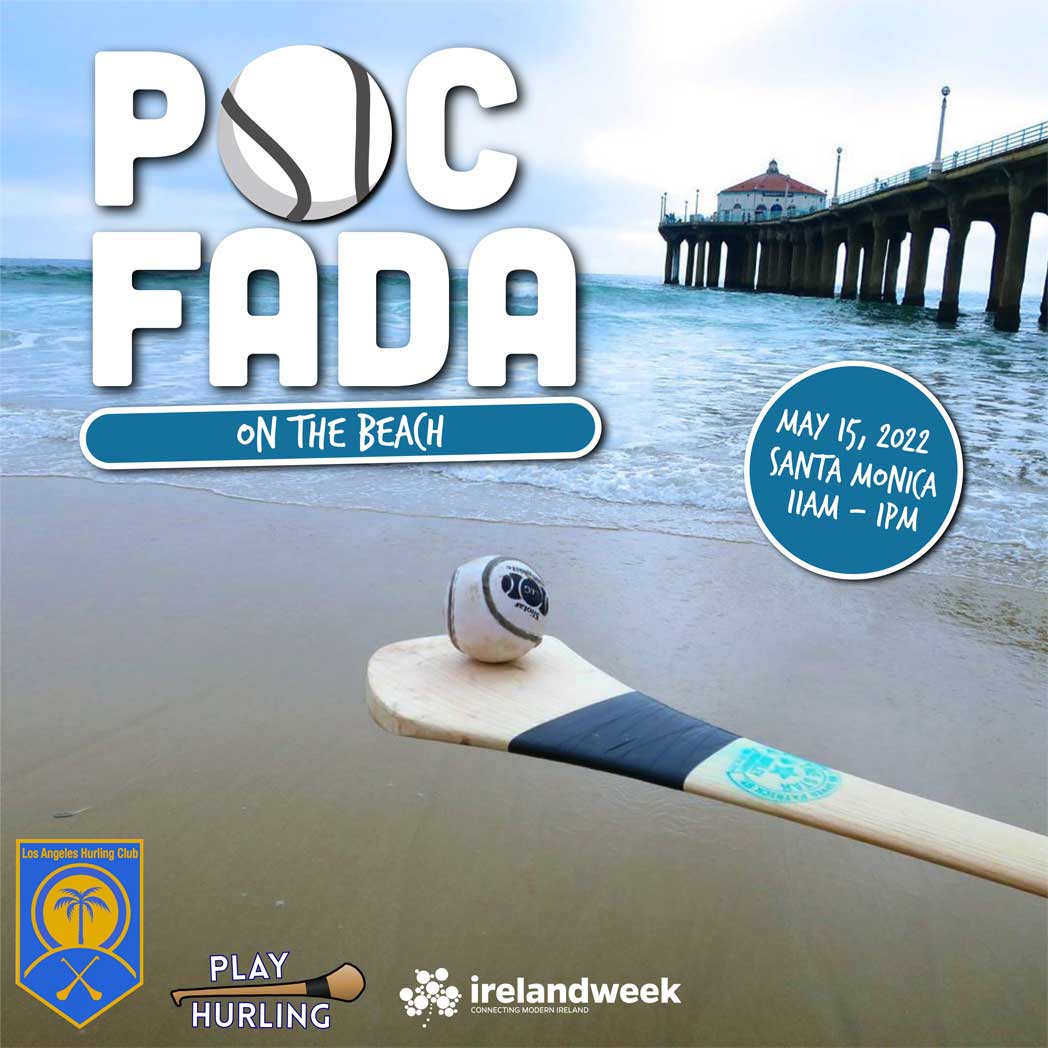 Poc Fada on the beach
Join us for LA's 2nd Annual Poc Fada Hurling Competition from 11am – 1pm, hosted on Santa Monica Beach by LA Hurling Club and playhurling.com. Get to know SoCal's hurling players, fans, beginners, and legends while pucking a few sliotars around on the sand, followed by a social at a local Playa del Rey bar.
The winner of the competition will receive a playhurling.com goodie bag. Play Hurling is an Irish-owned online shop for hurling equipment based in Los Angeles.
To keep updated on the hurling and camogie community in North America, follow Play Hurling: Instagram & Facebook
Meeting at the Back on the Beach Cafe, Santa Monica, CA 90402
Ireland Connects
Our Anchor event of the week will have a major focus on Ireland's rapidly expanding VFX and Post Production business. The Event is hosted by Irelands Tv and Movie Agency, Screen Ireland.
Imax will host the event at their new HQ in Playa Vista.
The event will features the leading lights of Irelands VFXAI world as well as the major players from our post production companies
Key exec's from across Hollywood studios / Streaming platforms to make up the guestlist.
This year we celebrate the massive strides Irish VFX/AI production houses have been making on the global stage.
Irish Government Minister for Tourism, Culture, Arts, Gaeltacht, Sport and Media Catherine Martin T.D. will address the event
Companies Presenting from VFXAI Ireland on the night will include, Egg, Outer Limits, Piranha Bar, Screenscene & Windmill Lane
The event will feature a fireside chat with Prem Akkaraju : Chief Executive Officer at Wētā FX. Additional Panel Guests to be announced.
IMAX HQ
12582 Millennium Dr, Los Angeles, CA 90094, United States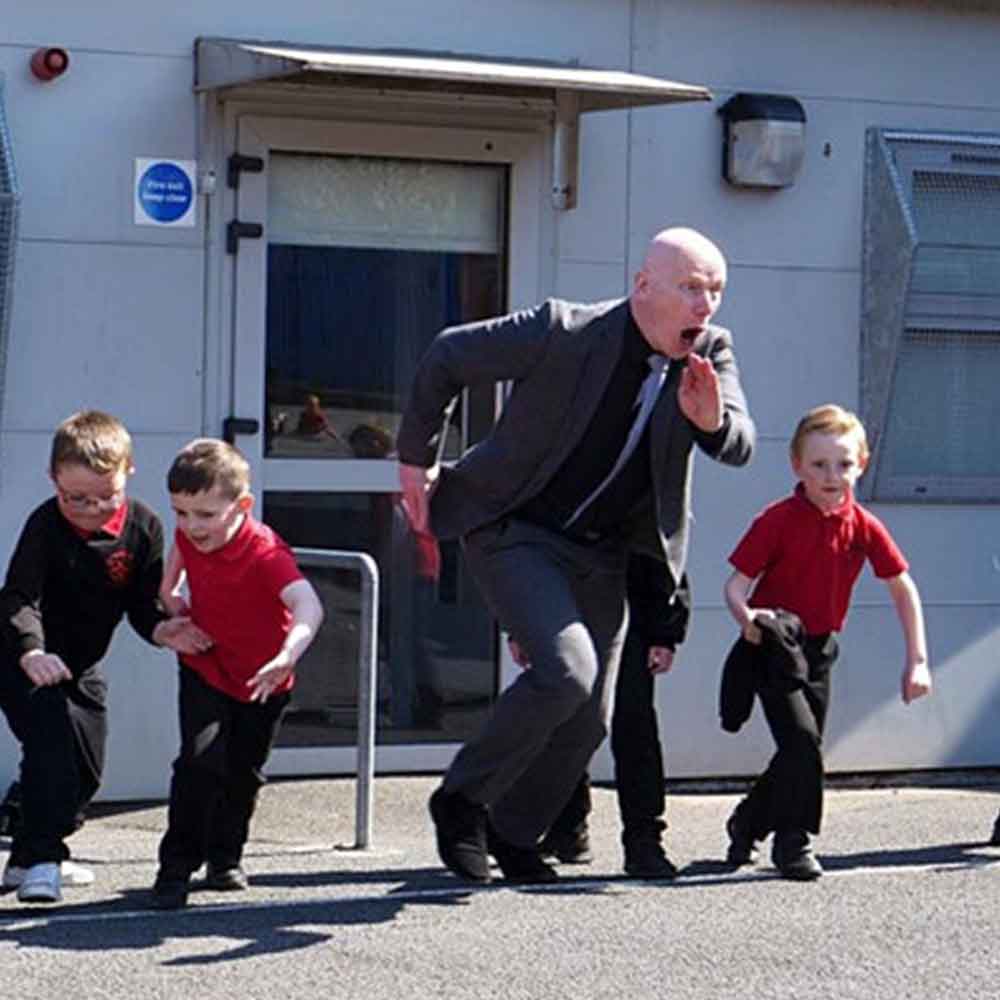 Irish Screen America presents Young Plato as part of Ireland Week 2022
A Primary School in Belfast's Ardoyne housing estates invokes the wisdom of the ancient Greek philosophers to fight poverty, drug dealers and the IRA–restoring hope in the heart of a battered community.
Multi-award-winning observational documentary Young Plato charts the dream of Headmaster Kevin McArevey and his dedicated, visionary team illustrating how critical thinking and pastoral care can empower and encourage children to question the mythologies of war and of violence, and challenge the sometimes limiting narratives of their own community.
The screening will be followed by a Q&A with the Director, Neasa Ní Chianáín, Producer, David Rane and lead cast members Principal, Kevin McArevey and Schoolteacher/Head of Pastoral Care, Jean-Marie Reel.
"What results is an utterly compelling documentary that breaks down a problem and offers a solution much like an educational lesson, teaching its subjects and the audience with encouraging thought and discussion."
– FAR OUT MAGAZINE (UK) – March, 2022
Laemmle Monica Film Center. Theater 1
1332 2nd St, Santa Monica, CA 90401

Music From Ireland @ It's A School Night
Showcasing the very best of what ireland has to offer right now, from Pop to Hip Hop via Urban soul, we are proud to announce, Denise Chaila, KneeCap, Tolu Makay and Sorcha Richardson as this years line up.
Bardot
1737 Vine St. Hollywood, CA 90028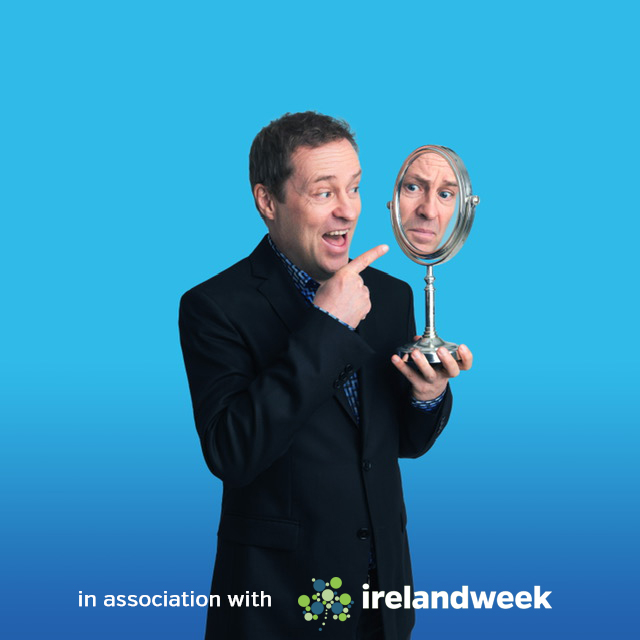 Ardal O'Hanlon
Irish comedian and actor Ardal O'Hanlon continues to tour his acclaimed stand-up show, The Showing Off Must Go On, worldwide. Because he loves it… and it's a compulsion. Plus, the world is a funny place.
Where Ardal comes from there is nothing worse than showing off. Yet he is a professional "show-off". Why does he do it?
Just when he thought he'd made sense of the world, when he thought he'd found wisdom, when he'd finally found a hat that fits and learned how to make decent cocktails and to relax for the first time in his life; just when he was about to quit airing his dirty linen in public and stop showing off. The world shifted. Dramatically. The world fell off its axis. And is adrift in the universe. And needs saving.
In an age of raging populism, identity politics, the end of truth, the collapsing middle ground and peak avocado, and terrified of being on the wrong side of history, and desperate to prove that his gender, race, age and class don't necessarily define him as a person, Ardal is forced to saddle his high horse again and ride fearlessly into the culture wars (with a white hankie in his pocket just in case), comedy as ever being the best emergency response mechanism to extreme events there is.
The Venice West
1717 Lincoln Blvd,
Venice, CA 90291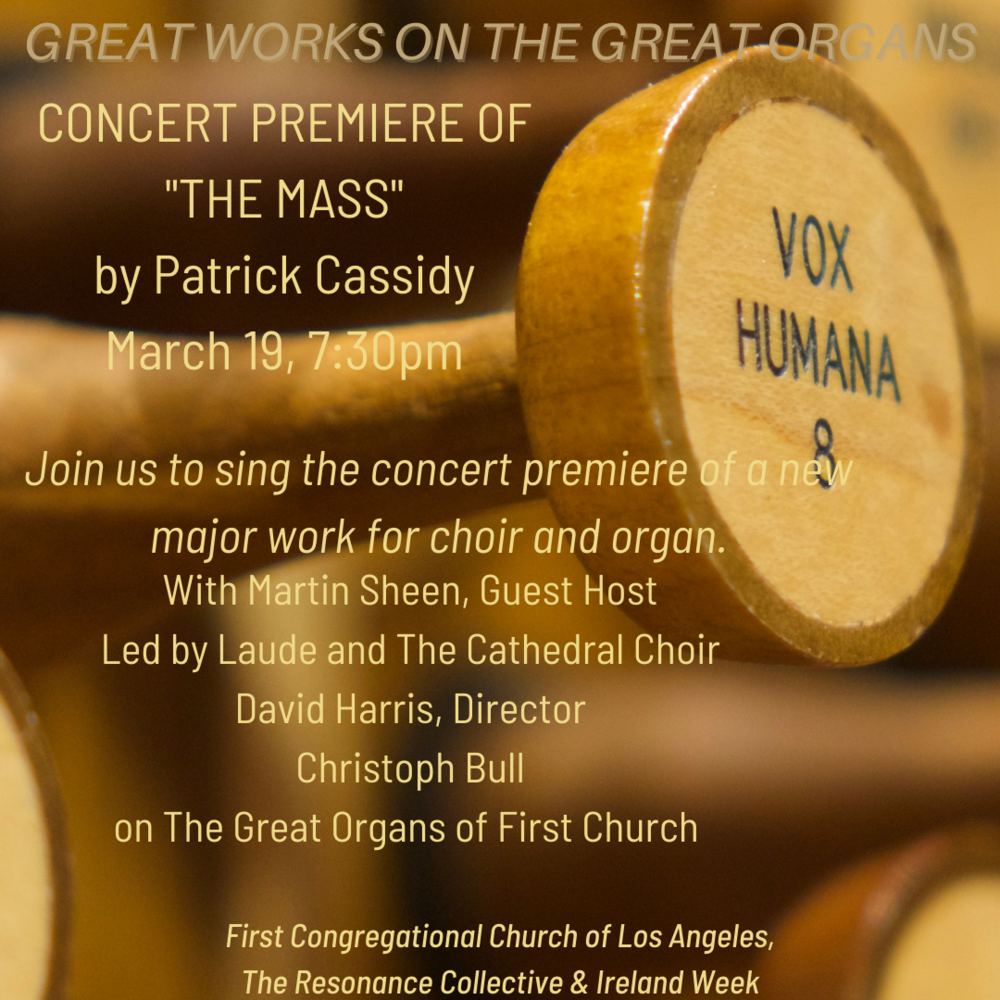 Patrick Cassidy's "The Mass"
"The Mass" live premiere concert will serve as a way for people across Los Angeles to gather and commemorate the past two years in a healing celebration. With guest host Martin Sheen.
First Congregational Church LA
540 S Commonwealth Ave. Los Angeles, CA 90020