Friday 1st November, 2019
LMU Playa Vista Campus
Second Floor
12105 W. Waterfront Drive
Playa Vista, CA 90094
With the great success of Irelandcon 2018 we are thrilled to confrim that we will be retuning to LMU's Silicon beach campus for IRELANDCON 2019.
Our major event every year at Irelandweek is our IRELANDCON conference on Friday November 1st 2019, to be held once again at LMU's Graduate school of Film and TV.
Irelandcon, the one stop shop for doing business with AND in Ireland.
With a key focus on celebrating innovation in tech, trade, entertainment and cultural ties between Ireland and Los Angeles, this year's flagship conference is returning once more right into the heart of Silicon Beach to LMU's new Playa Vista campus.
This must not miss conference was a sell out last year, and we expect the same this year.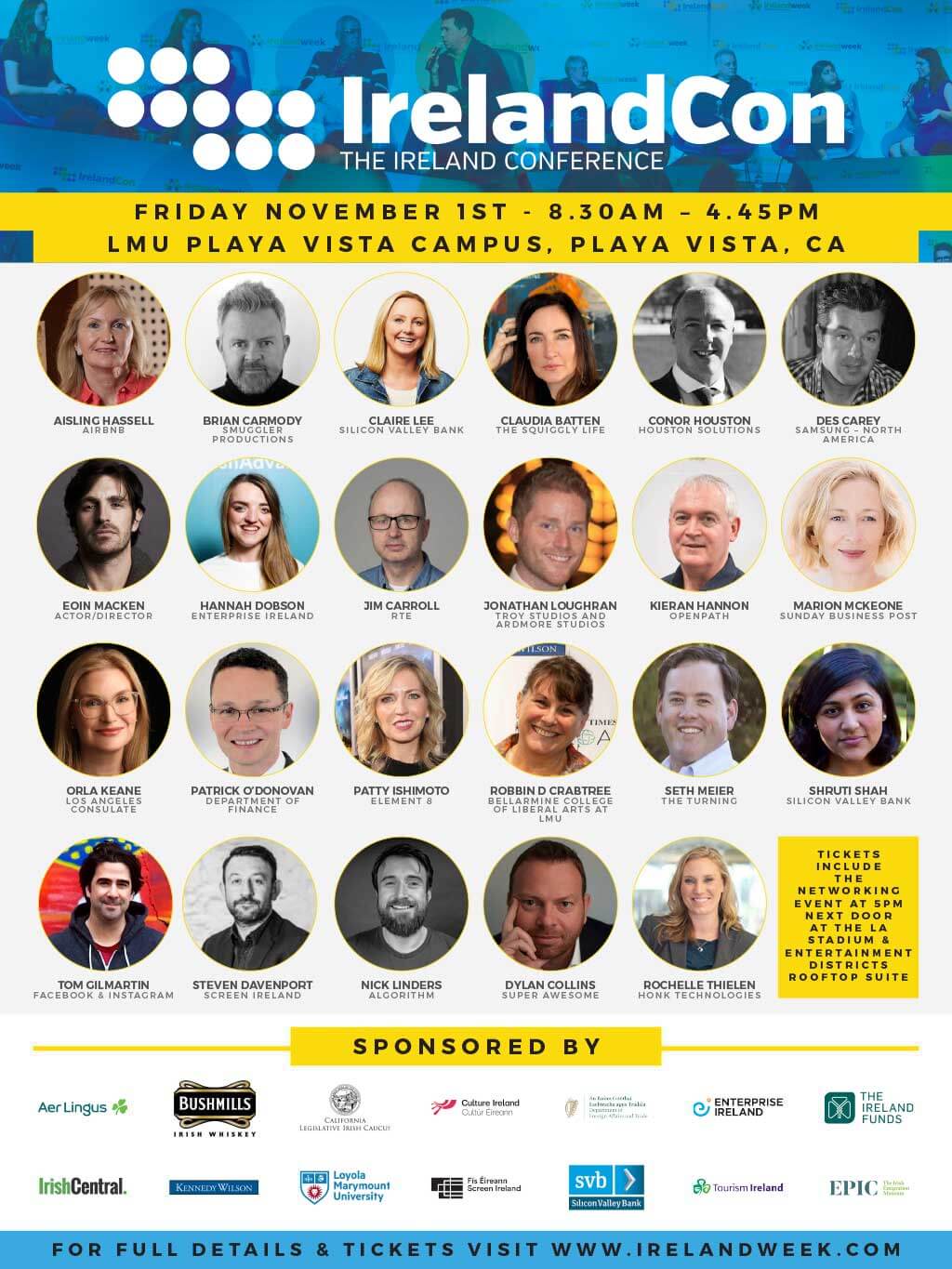 Networking Continental Breakfast sponsored by LMU
Welcome Address
Speaker: Buzz O'Neill, Co Founder, IrelandWeek
LMU Dean Crabtree Welcome Remarks
Speaker: Robbin D. Crabtree, Ph.D., Dean, Bellarmine College of Liberal Arts at LMU 
LMU Dean Rajski Welcome Remarks
Speaker: Peggy Rajski, Dean, School of Film and Television at LMU
Department of Foreign Affairs welcome
Speaker: Orla Keane, Consul General of Ireland to Los Angeles
Irish Government Welcome
Speaker: Patrick O'Donovan, Minister of State at the Departments of Finance and the Department of Public Expenditure and Reform with special responsibility for Public Procurement, OpenGovernment and eGovernment
City of Los Angeles Welcome
Speaker: Rob Frierson, Director of Economic Policy for LA Mayor Eric Garcetti. Ron leads a team that develops policy and liaises with major business sectors including Commercial Real Estate, Sports & Entertainment, Manufacturing and Technology
Everything is Super Awesome – Keynote Address
Speaker: Dylan Collins, Chairman, Super Awesome
Keynote Address with Dylan Collins – Taking on Silicon Valley and making the internet safer for kids
Airbnb in Ireland – Keynote Interview
Speakers: Aisling Hassell, VP Community Support, Airbnb & Kieran Hannon, Chief Marketing Officer, Openpath
Kieran Hannon keynote interview with Aisling Hassell from Airbnb Dublin.
Irish Entrepreneurial Spotlight
Speakers: Brian Carmody, Founding/Managing partner of International Production company SMUGGLER INC. & Marion McKeone, Journalist
Marion McKeone chats with Smuggler's Brian Carmody on his journey from Cork to Hollywood.
Keeping up with Brexit
Speakers: Minister Patrick O'Donovan & Conor Houston, Director, Houston Solutions
In conversation with Minister O'Donovan and Conor Houston
How tech is augmenting the users content consumption experience.
Speakers: Nick Linders, CEO, Algorithm, Des Carey, Head of Cinematic Innovation, Samsung & Hannah Dobson, VP, Entertainment and Media, Enterprise Ireland
Enterprise Ireland's Hannah Dobson talks with leading innovators
Casual networking lunch
You're in luck – it's a Taco Truck
Facebook and Instagram Keynote Interview
Speakers: Tom Gilmartin, Director for Creative Services, Facebook & Jim Carroll, RTE
Jim Carroll talks to Facebook and Instagram Creative Shop Director Tom Gilmartin about the latest in mobile-first advertising content.
Scaling from Zero to Hero
Speakers: Rochelle Thielen EVP, Partnerships, HONK Technologies, Shari Shruti, Entrepreneur in Residence, SVB, Claudia Batten, Founder, The Squiggly Life & Claire Lee, Head of Early Stage Client Acquisition, SVB
Claire Lee chats with Founders and Tech Entrepreneurs.
Why Ireland – Irish Creative Talent
Speakers: Patrick Ewald, Epic, Patty Ishimoto – Element8, Miss Scarlet and the Duke, Eoin Macken, Director, Here are the Young Men, Steven Davenport, Inward Production Manager, Screen Ireland
Steven Davenport talks Irish Creative Talent with Filmmakers
Location, Location, Location!
Speakers: Jonathan Loughran, Head of Production, Troy and Ardmore Studios, Seth Meier, Executive Producer, The Turning & Jim Carroll, RTE
A case study discussion of location and production in Ireland.
Fireside chat
Speakers: Jeff Atherton, Visual Effects Executive Producer | SSVFX
Jeff Atherton, Bafta nominated Visual Effects Production Executive talks about the ageing process of The Irishman
Final remarks
Speakers: Deirdre O'Neill Machin and Buzz O'Neill, Co Founders, IrelandWeek
Networking Reception
Location: LA Stadium & Entertainment Experience (4th floor of Belkin Building next door)
IrelandCon After Hours
Location: More networking at Hatchet Hall and The Old Man Bar- Culver City – 5 min drive
PATRICK O'DONOVAN
TD & Minister of State
A native of Newcastle West in Co. Limerick, Minister O'Donovan was elected to the Dáil at his first attempt in February 2011. Prior to becoming a TD, he qualified and worked as an industrial chemist before then qualifying as a teacher. He served as a member of Limerick County Council from 2003 to 2011.
Following Minister O'Donovan's election to the Dáil in 2011 he was selected to be a member of the British Irish Parliamentary Assembly, whose role it is to promote co-operation between political representatives in Britain and Ireland and build on the close relationships established in recent years between politicians throughout Britain and Ireland. During the 31st Dáil the Taoiseach also appointed him to the Joint Oireachtas Committee for Transport and Communications, and the Public Accounts Committee.
Minister O'Donovan was re- elected to the 32nd Dáil in February 2016 and was appointed by former Taoiseach Enda Kenny TD as the Minister of State for Tourism and Sport. In June 2017 he was appointed Minister of State at the Departments of Finance and the Department of Public Expenditure and Reform with special responsibility for Public Procurement, Open Government and eGovernment, by Taoiseach Leo Varadkar TD.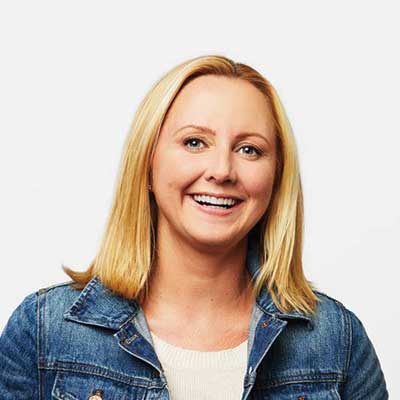 CLAIRE LEE
Head of the Early Stage
Claire is the Head of the Early Stage Group at SVB, dedicated to working with founders, entrepreneurs and pre Series A startups globally. Her team of evangelists operates in the major centers where entrepreneurship and innovation thrive – in the U.S. and in growth markets such as LATAM. This group oversees strategic partnerships for SVB with leading organizations, such as Techstars.
Claire joined SVB in January 2014 from Microsoft where she spent a decade working with startups and developing programs such as Microsoft BizSpark and Microsoft Ventures to support early stage founders in emerging markets.
Her career has taken her to 60 countries (so far) and she has lived and worked in 10 of those. Passionate about education and inclusion, about global affairs and about democratizing access to capital and opportunity, Claire has served as a mentor to groups like Seedcamp and Astia Global and as an advisor to the U.S. Department of State and the White House during the Obama administration.
Claire sits on the board of directors of the FreeFrom organization – a group devoted to supporting victims of domestic violence – and is an active donor to programs that enable more girls access education, such as Room to Read, and aim to level the playing field for gender in politics, such as Emily's List. Born in Dublin, Claire's career began with IBM in Ireland. She is a student of wine.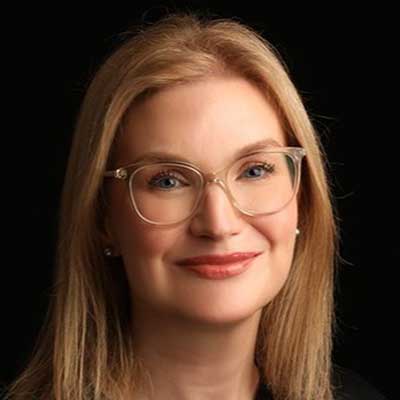 ORLA KEANE
Consul General of Ireland to Los Angeles
Orla Keane is Ireland's first Consul General to Los Angeles. Prior to taking up her assignment in LA in August 2019, Orla was part of the small team working on Brexit in the European Union Division of the Department of Foreign Affairs and Trade of Ireland. As a career diplomat, she has previously served at the Permanent Representation of Ireland to the EU in Brussels, including as Head of Institutional Affairs. Prior to her Brussels assignment, Orla was the Deputy Director of the Department's Human Rights Unit from 2007-2011. Since joining the diplomatic service in 2002, Orla's other headquarters posts included a period as Deputy Director for Southern Africa and several assignments working on issues relating to Northern Ireland, including political developments in the peace process and reconciliation work. Orla has also served at the Permanent Mission of Ireland to the United Nations in Geneva, working on humanitarian and development issues, and has covered issues relating to the Middle East and North Africa at the Permanent Representation of Ireland to the EU in Brussels. Orla is also engaged in the Department of Foreign Affairs and Trade's organisational work on gender equality and diversity.
Orla completed her undergraduate degree in Trinity College Dublin, with a joint honour in sociology and political science. She also has a MSocSc degree in Sociology from University College Dublin.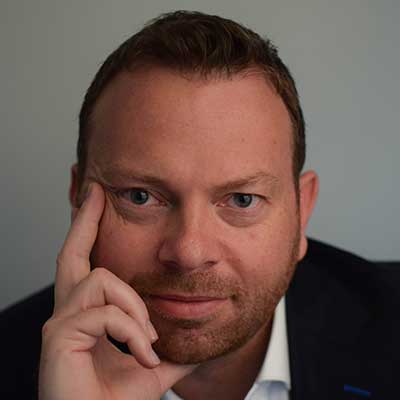 Dylan Collins' first company, DemonWare, was acquired by Activision Blizzard. His second was acquired by GameStop. After a (brief) tenure as investor, he founded SuperAwesome, the kidtech company which today powers safe digital activity for over half a billion children every month. With over 40% of all new internet users now under the age of 13, SuperAwesome is at the centre of the discussion about kids, digital privacy, technology and the future of digital media.
Collins is one of Europe's leading digital media entrepreneurs and has been an outspoken proponent for more digital protection for children globally.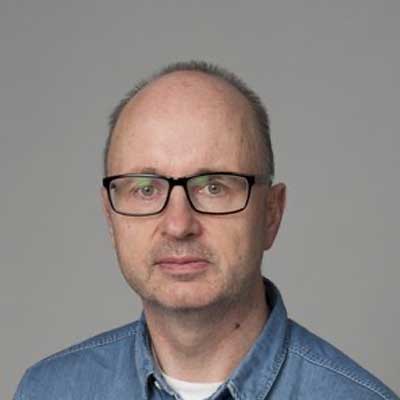 Jim Carroll is the founder and host of the Banter series of public talks, interviews and conversations. Since 2009, Banter has put on over 200 events in Ireland and elsewhere featuring over 1,000 guests talking about a wide and diverse range of topics. See thisisbanter.com for more details.
He is also the editor of RTÉ Brainstorm, a project set up by Irish public service broadcaster RTÉ in conjunction with a number of universities and third-level institutions in 2017. The initiative, which sees academics and researchers writing and commenting on news events, will become a radio series in late 2018. See rte.ie/brainstorm for more information.
Prior to this, Jim was a journalist with The Irish Times; content strategist and copywriter; co-founder of the Choice Music Prize event for Irish Album of the Year; radio and club DJ; record label co-founder, A&R man and press officer; and freelance contributor to dozens of magazines and publications. See byjimcarroll.com for more stuff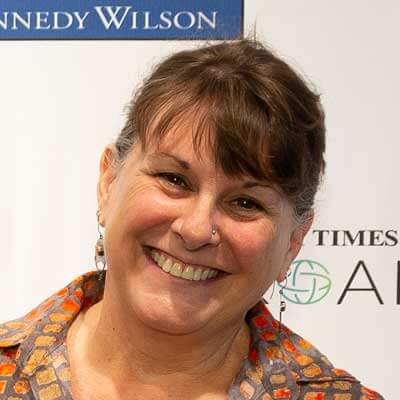 ROBBIN D CRABTREE
Dean
Bellarmine College of Liberal Arts at LMU
Robbin D. Crabtree is Dean of the Bellarmine College of Liberal Arts at Loyola Marymount University, where she holds the rank of Professor with tenure in the Department of Women's & Gender Studies. Her teaching interests include feminist media studies, gender and communication, international mass media, intercultural communication, community-engaged pedagogy, and feminist-action research methods. Dr. Crabtree's research emphasizes communication processes in community development. She has taught classes and conducted research in Brazil, El Salvador, Nicaragua, India, Spain, and Kenya in relation the role of communication and media in broader processes of social change and globalization. Her presentation on roles of community radio in Sandinista Nicaragua won a Best Paper award by the International Communication Association the year that conference met in Dublin, Ireland. In addition to attending the conference, she watched many World Cup soccer games in pubs around the country as the Irish went to the quarter finals for the first time in history that year. In addition to her teaching and scholarship, Dr. Crabtree produced current events programming for public radio in Minnesota and has worked extensively with non-profit agencies in public advocacy, consulting, and community-based action research. Dr. Crabtree was a member of the inaugural cohort of the Ignatian Colleagues Program, designed to develop leaders who are capable of and committed to leading the Ignatian spiritual and educational heritage of Jesuit Catholic education. She was selected Distinguished Woman Leader in Higher Education Administration by the American Council on Education in 2013, and a finalist for the Thomas Ehrlich Award for Civically Engaged Faculty by the national Campus Compact in 2014. A native Californian, Dr. Crabtree received her B.A. from the University of California at Santa Barbara and her M.A. and Ph.D. from the University of Minnesota.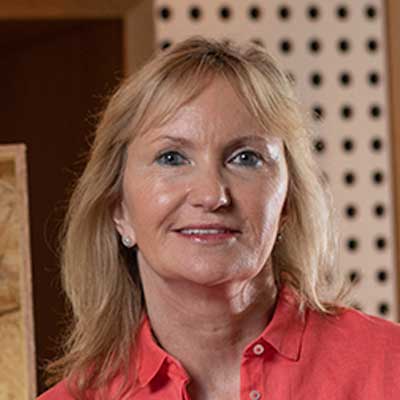 AISLING HASSELL
VP Community Support
Aisling Hassell leads Airbnb's global community support team, focused on making every single element of the guest and host experience on Airbnb a memorable one.
She also acts as Site Lead for Airbnb's European headquarters in Dublin, its largest base outside of the US. She leads two locations here with over 500 employees, across growing teams from Community Support to Trust & Safety.
Aisling joined Airbnb in 2014, after a global career leading customer strategy and experience in technology, communications and software innovators.
In her 25-year career, Aisling has been director of global customer experience and web strategy at Sage, Group Head of Customer Experience, Vodafone and VP of Customer Experience at Symantec in the US.
Aisling lives in Dublin with her husband, two children and Sully, her dog.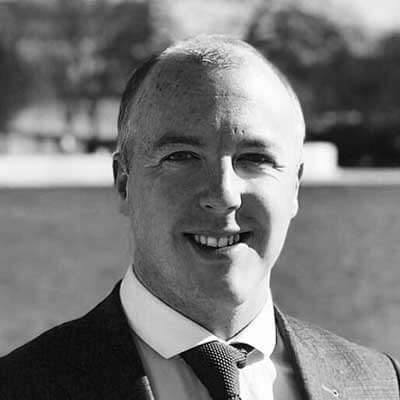 Conor is a Director at Houston Solutions Ltd and has provided trusted strategic advice to senior leaders across business, government, the third sector and entertainment industry. He has experience in bringing large-scale impactful strategies to life and has built relationships and networks locally and internationally.
He is also Head of Engagement for Digital DNA – the largest tech & digital conference in Northern Ireland. For the past two years, he has spearheaded their 'Digital Futures' programme which gives 40 young people unique access to opportunities in the tech sector.
Conor is a Governor of The Irish Times Trust and Director of ShoutOut – an LQBTQ+ youth charity. He is Founder of Connected Citizens, a civic initiative which aims to realise the potential of Northern
Ireland through informed and inclusive conversations with communities about a shared future.
Conor was part of the official NI delegations to the White House in March 2017 and 2019 to promote economic and cultural relations between the island of Ireland and the United States.
In October 2017, he joined two Nobel Peace Prize winners on stage to address the One Young World Summit in Bogota, Colombia on the theme: "It's all about relationships" and is now Chair of a bid to bring One Young World (the largest global youth summit) to Belfast in 2023.
In April 2019, Conor was listed as one of Northern Ireland's '40 under 40'.
Previously, as a solicitor advocate he represented clients to the Supreme Court of both the UK and Ireland and was involved in many high profile and pioneering cases. He also represented the legal profession on the Executive Board of the European Young Bar Association and was elected to serve on the Council of the Law Society of Northern Ireland.
Conor formerly acted as Programme Director at the Centre for Democracy and Peace Building leading on their 'EU Debate NI' programme. This programme engaged over 30,000 people across Northern Ireland in the debate around Brexit, including all political parties and key influencers in private, public and community sectors. He gave evidence to the NI Affairs Committee in Westminster about his work.
He is a Fellow of the US State Department Rule of Law Programme, Fellow of the British Council Hammamet Conference and represented the UK at the Ship for World Young Leaders Conference in Japan. Conor was also the inaugural Chair of The Ireland Funds Belfast. He has also delivered lectures in Harvard University and Loyola Marymount University LA about Northern Ireland.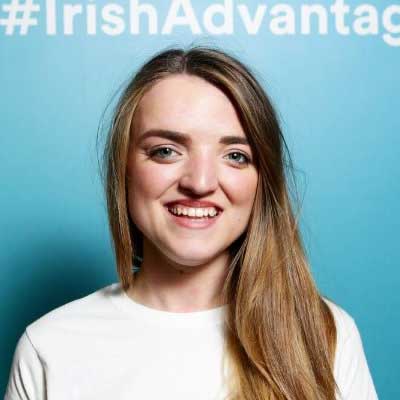 HANNAH DOBSON
VP Entertainment & Media
Hannah Dobson joined Enterprise Ireland in September 2016 and is responsible for advising and supporting the growth of a world class portfolio of Irish companies across the animation, VFX, production, gaming, VR/AR and broader entertainment industries.
Hannah has a deep understanding of the dynamics & drivers of the Entertainment sector in LA and has led major initiatives more deeply connecting Ireland with this sector, most notably the June '18 Trade Mission to LA consisting of 15 Irish Animation & Digital Entertainment companies.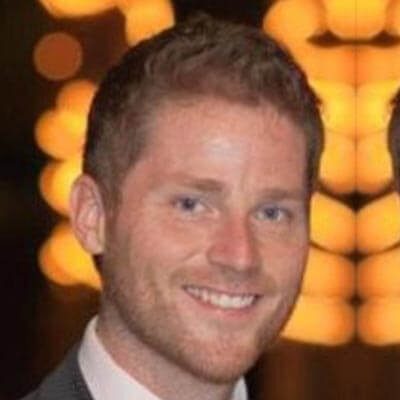 JONATHAN LOUGHRAN
Head of Production
Troy Studios and Ardmore Studios
Film producer and financier Jonathan Loughran is the LA-based Head of Production for Troy Studios and Ardmore Studios, Ireland's largest provider of sound stage space. Recent projects to shoot at the studios include NIGHTFLYERS (NBC/Netflix), JURASSIC WORLD: BATTLE AT BIG ROCK (Universal), INTO THE BADLANDS (AMC), PENNY DREADFUL (Showtime). Loughran has attracted over $750m worth of productions to shoot in Ireland over the past 15 years. In addition he has produced the features WHAT IF? (2013, CBS Films) starring Daniel Radcliffe & Adam Driver, BLACK 47 (2018, IFC) starring Hugo Weaving & Jim Broadbent, as well as the upcoming THE BURNT ORANGE HERESY (2020, Sony Pictures Classics) starring Mick Jagger & Donald Sutherland, THE SILENCING (2020, XYZ Films) starring Nikolaj Coster-Waldau & Annabelle Wallis, and is currently in production on WILD MOUNTAIN THYME (2020 Bleeker Street/ Lionsgate) directed by Academy Award winner John Patrick Shanley starring Emily Blunt, Jamie Dornan, Christopher Walken and Jon Hamm.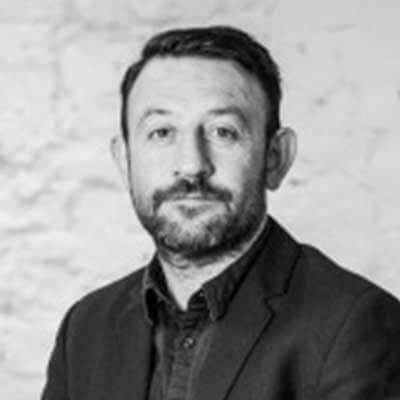 STEVEN DAVENPORT
Inward Production Manager
Steven is currently the Inward Production Manager at Screen Ireland and over the last 3 years has been involved in bringing international productions such as Foundation, The Winx, Miss Scarlet & The Duke, The Green Knight and The Rhythm Section to locate in Ireland. Nationally recognised production & location Manager in the Irish Film, Television & Commercial Industry. Steven has worked over the past 20 years and has obtained an extensive and varied knowledge of the industry. He has worked in various rolls including Producer, Production Manager & Location Manager. As a location manager he worked on RTE's award winning flagship drama's Love/Hate & Raw. As a Production Manager his credits include the feature films Birds Across The Sound, A Thousand Times Goodnight and the recent horror movies Without Name & A Dark Song and prior to joining Screen Ireland Line Produced the Irish/ Swedish Co. production Maze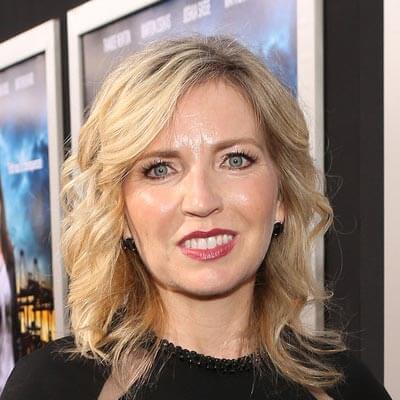 Patricia has worked as an executive in the television and telecom industries for more than 20 years. Prior to starting Element 8 with her partners which focuses primarily on developing and financing international co-productions, she served as General Manager of AUDIENCE network at DIRECTV. There she was responsible for all aspects of network strategy and operations, from content development and acquisitions through program scheduling for both linear and on demand platforms. In growing the business from a channel built on acquisitions to a full-time premium network with more than 50 million viewers, she acquired original runs for FRIDAY NIGHT LIGHTS and DAMAGES and launched the network's foray into program development and production with series such as ROGUE with eOne, FULL CIRCLE with Momentum and KINGDOM with EndemolShine.
Patricia was also responsible for launching DIRECTV's first original music production CD USA, a live concert event series shot at SXSW and an ongoing series co-produced with Guitar Center, and created an issues-focused documentary series. She negotiated output deals with major studios for feature films and pay-per-view events, and initiated DIRECTV's in-flight broadcast service for LiveTV on JetBlue and Frontier airlines.
Prior to entering the entertainment business Patricia was an advertising executive for multicultural marketing at AT&T, and was a Business Development Advisor in Kenya for the United States Peace Corps.
Patricia is a member of BAFTA – Los Angeles and speaks French, Swahili, enough Japanese to keep her out of trouble and is an avid world traveller.
She is a graduate of Albright College where she earned a degree in Business, French and International Relations.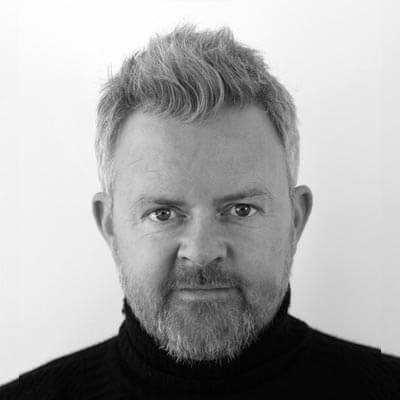 Brian Carmody is an award-winning commercial, film and theater producer. He is the Co-Founder/Managing Partner of international production company SMUGGLER INC. Brian is well known for collaborating with first-class talent to create impactful and acclaimed work. He has received many of the most coveted awards and honors in his many fields, including Tony and Grammy awards for "Once" the musical, three Emmy's and several Cannes Lion Palme d'Or for his TV commercial work. His upcoming theater production "Sing Street", based on the Golden Globe nominated Irish film set in 80's Dublin, is set to open in the Spring of 202o on Broadway.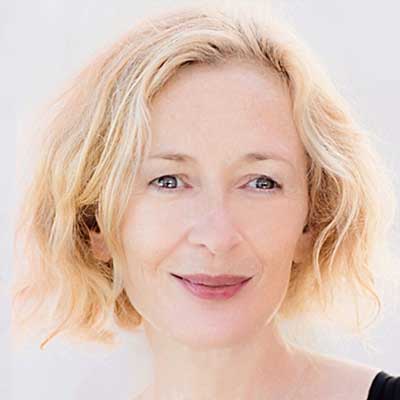 MARION MCKEONE
US Correspondent
Marion McKeone has worked as barrister, broadcaster, documentary maker and foreign correspondent covering events from the 9/11 terror attacks to the 2916 election campaign and the current impeachment battle. She is the US Correspondent for the Sunday Business Post and was formerly US editor for the Sunday Tribune. She's written for the Guardian, New York Times, US News and World Report, Irish Times, UK and Irish Independent and broadcasts a regular US slot with Cal Thomas on Matt Cooper's The Last Word on Today FM. She's contributor and panelist on TV shows covering politics, foreign policy and culture and is a regular contributor to BBC and RTE TV and Radio.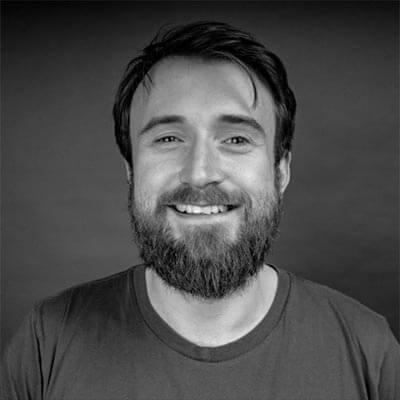 Nick is the CEO of Algorithm Productions and has spent the last 15 years working in the creative, technology and entertainment industries. He believes that innovation is inspired by art, and in the social potential of emerging technologies. He holds an MBA from Trinity College Dublin, and uses this to support and develop the many talented people he is surrounded by.
Algorithm is a multi award winning studio specializing in content creation for live immersive experience. They deliver high impact projects for audiences around the world.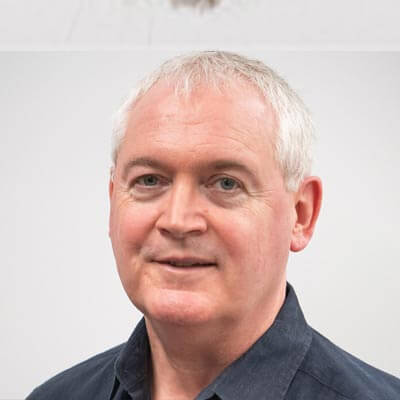 Kieran Hannon
Chief Marketing Officer
As Chief Marketing Officer, Kieran comes to Openpath with three decades of successfully building best-in-class consumer experiences in mobile, digital and retail sectors. In his former role as Belkin International's Chief Marketing Officer, Kieran oversaw and helped grow the company from one to four industry leading brands: Belkin, Linksys, Wemo and Phyn, and their subsequent acquisition. Prior to Belkin, Kieran served as Vice President of marketing for RadioShack Corporation, where his leadership resulted in Gold awards for the Best Integrated Marketing campaign by the National Retail Federation and the Experiential Marketing Association. As former President of Grey Worldwide in San Francisco, Kieran led the rebirth of the San Francisco office, making it one of the top performing agencies in the Grey Global Group network. Recognized with a "2018 SXSW Valiente CMO Award" and as a "Top 100 CMO in the World", Kieran graduated from the Dublin Institute of Technology in Ireland with a diploma in civil engineering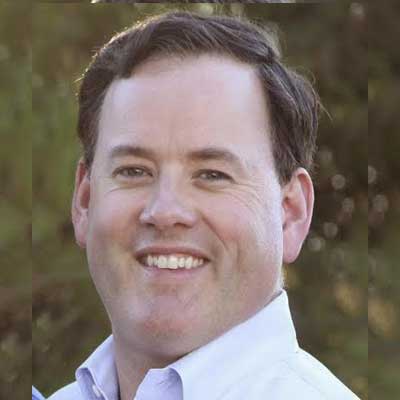 Seth Meier
Executive Producer
Worked in production moving into effects overseeing builds for SMURFS 1&2, Transformers 3, The East, Iceman, Stalingrad and G.I. Joe 2. Select producing credits include: In My Pocket, Maker Shack Agency(Amazon) Cooties(Lionsgate) The Bye Bye Man(STX), Visions, Stephanie and Happy Death Day(Universal), A Dog's Journey and the Jan 2020 theatrical release of The Turning (Amblin).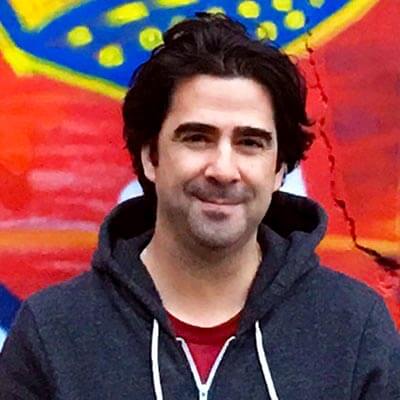 Tom Gilmartin
Creative Shop Director
As a Director for Facebook & Instagram Creative Shop, Tom has spent years leading the North American Entertainment, Gaming and Autos creative teams that partner with brands to build mobile-first advertising content across all platforms. Before Facebook, he spent 15+ years dedicated to the art of giving consumers good reasons to fall in love with brands while working in the creative hallways of ad agencies including TBWA Chiat\Day, Hill Holliday, Leo Burnett, Team One, and Arnold Worldwide. He has shared conference rooms, trans-global jetliners, production vans and sleepless nights with marketing teams from Sony, Audi, ESPN, Activision, Levi's, EA, Disney, Microsoft, Hyundai, Boost Mobile, Lexus and Clinton Global Initiative. Tom is a native Californian but comes from a long line of bushy-eye browed Gilmartin's originally from Castlebar in County Mayo. He now lives in Palos Verdes with his wife, three kids, three dogs, 4 chickens and 3 betta fish.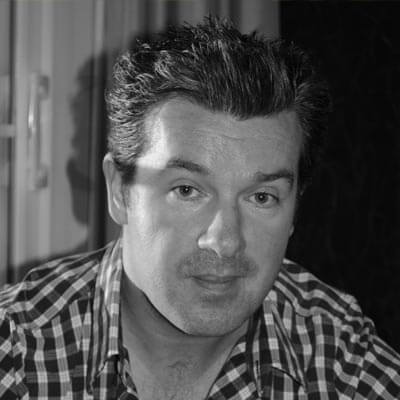 Des Carey
Head of Cinematic Innovation
"Starting his film career as an Apprentice to George Lucas in the early '90s, Des has spent the last twenty years in the feature film and television arenas, collaborating directly with such influential filmmakers as Steven Spielberg, JJ Abrams, Brian de Palma, Michael Bay, Gore Verbinski, David Fincher, Paul Verhoeven, Steven Soderbergh and Robert Zemeckis, among many others.
With an extensive background in Physical Production, Script Development, Visual Effects, Production Budget Analysis, Tax Incentives, Publicity and Post Production, he has also designed the workflow and produced the digital finishing on over 80 of Hollywood's most ambitious feature films. Some of Des' film credits include "The Star Wars Trilogy – Special Editions", "Blade Runner 2049", "Pirates of The Caribbean", "Quantum of Solace", "Fast & Furious", "Terminator: Salvation", "Mission: Impossible III", "Flight" and the ground-breaking features "Transformers", "Watchmen" and "300".
While at Lucasfilm, Des was one of the pioneering figures behind what would become known as "The Digital Intermediate Process". This workflow and process would ultimately revolutionize the way all feature films, and television shows would be made.
In September 2012, he was honored as one of the "Hollywood 50″ at a Gala Ceremony on the Sony Pictures Lot in recognition of the 'Top 50 most influential technology innovators' in the entertainment industry."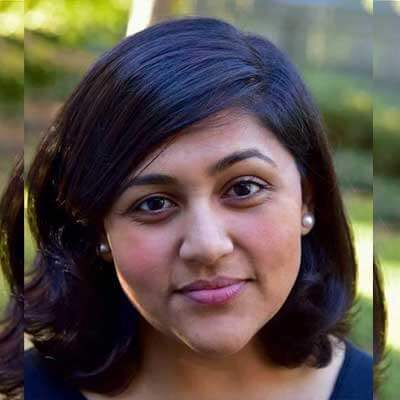 Shruti Shah
entrepreneur in residence
Shruti Shah is an entrepreneur in residence at Silicon Valley Bank where she is currently working with the early stage team on strategic partnerships while developing a new idea for a new type of financing for startups. She was previously the co-founder and COO of YC backed Move Loot, an online marketplace for buying and selling used furniture.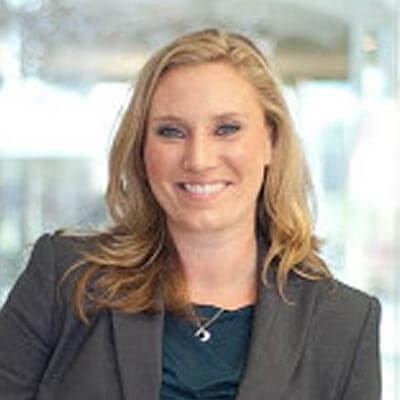 Rochelle Thielen
Partnerships
"Rochelle Thielen is a serial builder and mobility SME with over 15 years building teams, companies and groundbreaking tech initiatives within the mobility and marketplace spaces. As the former CEO of Estify, she is one of a handful of leading women focused on advancing the safety of automotive repair through technology. More recently in her executive role at HONK Technologies, she has leveraged her automotive background to take on safety and marketplace opportunities within the $29 Billion mobility and roadside assistance industry. Rochelle resides in Los Angeles and was a featured speaker at InspireFest, Dublin 2018."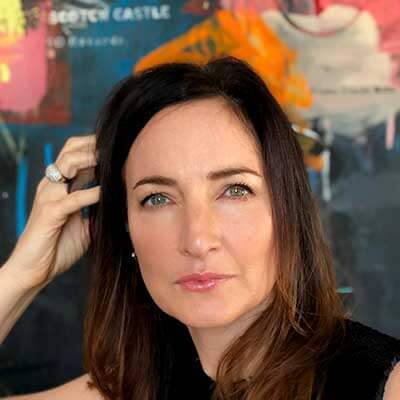 From Claudia's roots in commercial law she has been a founding member of two highly successful entrepreneurial ventures. As part of the founding team of Massive Incorporated, a network for advertising in video games, she helped pioneer "digital" as a media buy. Massive was sold to Microsoft in 2006, where Claudia then spent 3 years scaling the in-game network. In 2009 she co-founded Victors & Spoils, the first advertising agency built on the principles of crowdsourcing. After two years in market, V&S was acquired by French holding company Havas Worldwide. In 2014 Claudia cofounded Broadli with Ale Lariu and Mary Abraham to redefine how we use digital connectivity to power networking.
Claudia most recently spent three years running North American operations for NZTE, with the goal of bringing disruption into government while supporting the growth of NZ exports in North America. She is a Director of NZX listed digital travel company Serko, and digital advisor to the board of Westpac New Zealand.
She is a self-proclaimed Squiggler – a belief that anyone can be remarkable by embracing intuition and cultivating a practice of what she calls "deliberate discomfort".
Claudia graduated Victoria University of Wellington in 1998 with degrees in Law (Hons) and Commerce. At Russell McVeagh she specialized in contract, IP, and technology law before moving to New York in 2002. She became the youngest person appointed to the New Zealand Government's Trade and Exchange US Beachheads Board in 2007.
Claudia has achieved great success in the US market, but remains a strong supporter of the New Zealand start up scene. She participates regularly across the ecosystem on boards, advisory groups and as a very active mentor. She believes that New Zealand must be part of the digital world to close the geographic divide, remain relevant, and increase its prosperity. In 2013, she was awarded a Distinguished Alumni Award from Victoria University in recognition of her commitment to New Zealand and her achievements in tech. In 2014 she was the youngest ever recipient of the prestigious "World Class New Zealand Supreme Award", in recognition for her achievements and her work inspiring the entrepreneurial ecosystem in New Zealand. Claudia's work across the NZ entrepreneurial and tech ecosystem has been recognized by all the major New Zealand awards: she was Next's woman of the year in 2015, received a Sir Peter Blake Leadership award in 2016, awarded the Outstanding Contribution to Technology and Business in award at the 2017 CIO Awards and named 2018's Flying Kiwi at the New Zealand Hi-Tech Awards.
She is a regular speaker on the future of marketing, the impact of connectivity, and on building businesses of the future. Claudia's experience has informed her business savvy, while her appetite for new challenges, unerring sense of timing and intuitive handle on the pulse of the industry guarantee that she will be a force to be reckoned with for years to come.
You can follow Claudia most everywhere @claudiabatten and she blogs at squigglylife.com.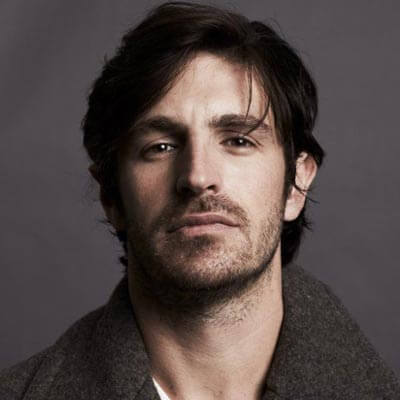 Eoin Macken
Director/Actor
Eoin – pronounced Owen – Macken was born in Dublin on 21 February 1983 and began his interest in drama at University College, Dublin. At the age of 19, he became a highly successful model, chosen as the face of Abercrombie and Fitch, in addition to working for Ralph Lauren, Braun and GQ magazine. After joining the Attic studio of drama he spent some time in Los Angeles, where he directed the well-regarded short, 'Dreaming For You', about young acting hopefuls in Tinseltown, in addition to completing his psychology degree. Back in Ireland he directed and shot a second film, psychological thriller 'Christian Blake' as well as appearing in serial drama 'Fair City.'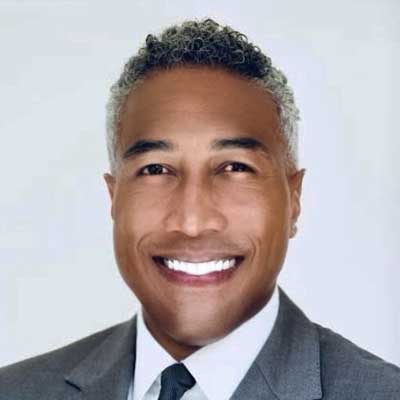 Ron Frierson
Director of Economic Policy
LA Mayor Eric Garcetti
Ron Frierson serves as Director of Economic Policy for LA Mayor Eric Garcetti. Ron leads a team that develops policy and liaises with major business sectors including Commercial Real Estate, Sports & Entertainment, Manufacturing and Technology as City Departments including the Los Angeles Convention Center, Department of Cannabis Regulation and the Economic Workforce & Development Department.
Ron's diverse business background includes over 18 years of Corporate Site Selection, Business Tax Incentives Negotiation & Procurement and Economic Development both domestically and internationally.
Ron served as Director of National Incentives at NAI Capital in Los Angeles where he performed both tenant representation brokerage services and began building the firm's national incentives procurement capabilities. He also served as Principal at Hickey & Associates (New York) where he performed corporate site selection and incentives negotiation and procurement.
Prior to that, Ron served as Vice President of CBRE Location Incentives (Phoenix), working with a national team that identifies and procures economic development tax incentives for corporate clients in the United States and Canada.
Before going into the private sector, Ron served as West Coast Business Development Manager for the Kansas Department of Commerce under Governor(s) Kathleen Sebelius and Sam Brownback. There he managed business attraction, discretionary incentive negotiation and project management for an 11-state territory.
Ron's entrepreneurial accomplishments include Frierson & Associates, which performed business development, consulting and marketing services for clients that included JAM Inc., Rock Bottom Rentals and economic development consulting for the Kansas Department of Commerce. Ron also co-founded Ad Hoc Staffing, a technical recruiting firm that became a vendor for NBC Universal.
Ron is a former professional athlete, briefly playing basketball in Australia and France. He attended graduate school at Baker University- Kansas and received his undergraduate degree from Emporia State University in Kansas, where he remains involved as a member of the Cremer School of Business – Dean's Advisory Council and serves on the Emporia State Foundation Board of Trust–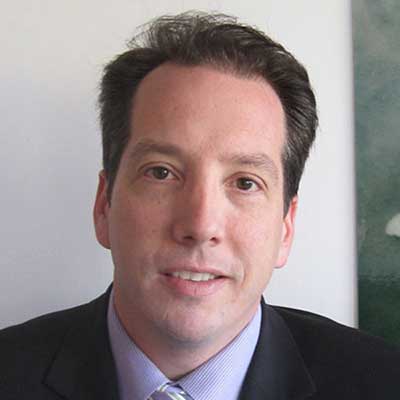 In 2007, Patrick Ewald launched Epic Pictures Group with the goal of bringing original and visionary films to a worldwide audience. His career in the film business spans over 25 years as a senior level executive and he has been involved in the development, financing, and producing of numerous independent films. A few of these are: "TURBO KID," "THE LODGERS," "EXTRA ORDINARY," "SEA FEVER," and "THE MAN WHO KILLED HITLER AND THEN THE BIGFOOT." He is currently producing "THE WINTER LAKE," "THE BALLAD OF AUDREY EARNSHAW," "AVARICE," and "LUCKY."
In addition to running Epic Pictures Group, Inc., he heads DreadCentral.Com, a leading horror website and branded genre label for horror films, DreadTV, the AVOD streaming channel, and DreadXP.com, a gaming and live streaming site.
Prior to Epic Pictures Group, Inc. (between 2005-2007), he was President of Renegade Pictures, a production and sales company that sold independent genre films worldwide. Between 1999-2005, he was the Executive VP, Development and Production, at Crystal Sky Pictures and Jon Voight Entertainment.
From 1995-1999, he was the owner of Rogue Entertainment, a development and production services company that was eventually acquired by Universal.
A transplanted New Yorker, with an appreciation for all good things both west coast and east coast, Patrick is a board member of IFTA, a three-time Saturn Award winner as well as a member of the Producers Guild of America
He is also a committee member for the Reverse Rett organization, the largest fundraising body devoted to finding a cure for Rett Syndrome.
Most importantly, he is married to his incredible wife and partner, Sarah, and has three amazing daughters as well as another very important member of their family, their very lovable rescue pit bull, Lola.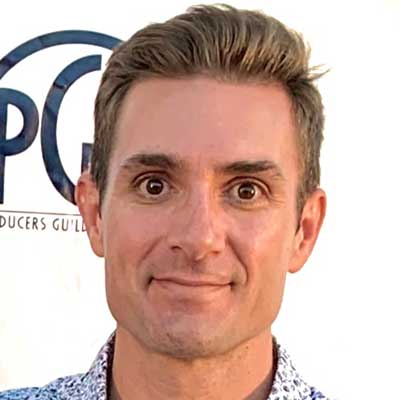 Jeff Atherton
Visual Effects Executive Producer
Working in the visual effects industry for over a decade, Jeff Atherton joined SSVFX in June of 2019 as a Visual Effects Executive Producer for their Los Angeles office. His career began in 2006 at Hydraulx VFX in Santa Monica where he worked on 32 feature films and was the Visual Effects Producer on 21 of them – his credits at Hydraulx include The Avengers, Looper and San Andreas, to name a few. In 2015 Jeff took a position with Industrial Light & Magic in San Francisco where he served as the Visual Effects Producer on Alexander Payne's Downsizing, Orson Welles's The Other Side of the Wind and Martin Scorsese's The Irishman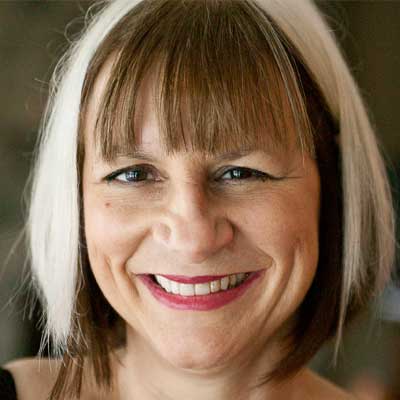 Peggy Rajski
Dean
School of Film and Television at LMU
Peggy Rajski brings the knowledge and leadership skills from her career as an Academy Award-winning filmmaker, activist, and academic to her role as dean of LMU's School of Film and Television. She launched her career during the independent film movement in the 1980s. Her many credits include three of writer/director John Sayles's early films: The Brother from Another Planet, Matewan, and Eight Men Out; Stephen Frears's film-noir classic The Grifters; and Jodie Foster's directorial debut Little Man Tate and her second film Home for the Holidays.
Rajski won an Academy Award in 1995 for Best Live Action Short for her directorial debut Trevor, a comedy about a young teen whose world is turned upside down when word spreads at school that he might be gay. Based on huge public response to the film, she founded The Trevor Project, America's first 24/7 crisis intervention and suicide prevention non-profit dedicated to LGBTQ+ youth. More than twenty years after its founding, The Trevor Project is still the world's largest such organization.
Rajski spent eight years at NYU's Tisch School of the Arts Graduate Film Program as head of studies for producing prior to joining LMU SFTV as dean. She's a longstanding member of the Directors Guild of America, Film Independent, and the Academy of Motion Pictures Arts and Sciences (AMPAS), which named her a Live Action Icon.